The Story Behind the Split Screen on your Televisions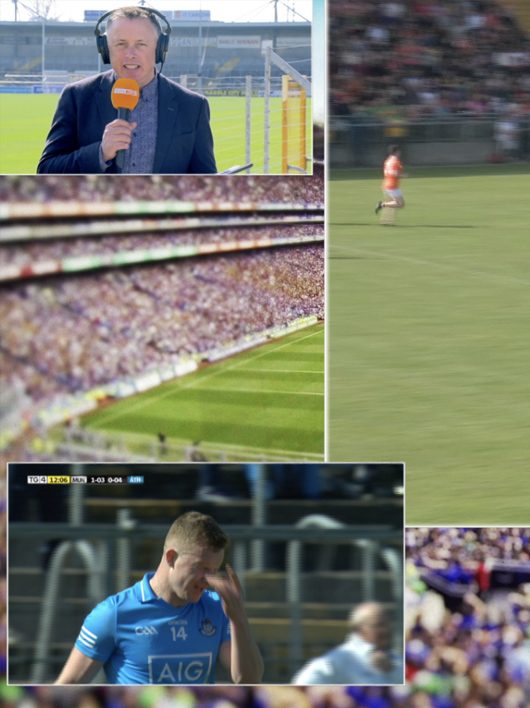 The decision to execute Super Sunday, Sár-Dhomhnach or Deadly Domhnach – whatever you want to call it - came about before the last round of our Allianz leagues coverage for GAA BEO on TG4.
Our team here at Nemeton TV combined live streaming talents with our broadcast television skills and executed a picture-in-picture broadcast where TG4 viewers of Monaghan v Dublin were updated with the best bits of the live streams from Letterkenny (Donegal v Armagh) and Carrick on Shannon (Kildare v Mayo) so they could grasp the permutations of the league table. And this all happened from Nowlan Park thanks to our satellite team here at Nemeton, Digisat who received 3 separate match feeds at the same time and sent them up to TG4.
We had Miriam Fitzsimons updating our As It Stands table - yes that's the member of staff referred to as "the love child of Pythagoras and Carol Vorderman" in the Irish Times on Monday – and so the viewers at home were able to see the League table changing score by score to see which of the teams might be relegated from their respective divisions or go through to the finals.
The coverage got great feedback by the fans and GAA BEO had a 25% viewership share in Ireland that day.
Rinne ár bhfoireann spóirt cinneadh chun Sár-Dhomhnach a dhéanamh roimh an mbabhta deireanach den tSraith Allianz mar chuid dár gclúdach GAA BEO ar TG4. D'úsáideamar ár scileanna streamála agus teilifíse chun craoladh pic-in-pic a dhéanamh agus bhí an lucht féachana, a bhí ag féachaint ar Áth Cliath v Muineachán, in ann na míreanna is fearr a fheiceáil ó na streams beo de chluiche Ard Mhacha v Dún na nGall, agus Maigh Eo v Cill Dara. Mar sin bhí an lucht féachana eolach ar na féidireachtaí a bhí ann le clár na bpointí. Tháinig an rud seo ar fad ó Pháirc Uí Nualláin UPMC i gCill Chainnigh, buíochas le foireann saitilíte, Digisat, agus iad ag tógáil isteach 3 chluiche ag an am céanna chun iad a sheoladh ar aghaidh go TG4.
Bhí Miriam ag cinntiú go raibh Clár na bPointí suas chun dáta (meascán idir Pythagoras agus Carol Vorderman dar leis an Irish Times) agus mar sin bhí an lucht féachana in ann na hathruithe a fheiceáil beo ar an tábla agus fáil amach cé a bheadh ag dul síos chuig an Roinn eile, nó cé a bheadh ag dul ar aghaidh go dtí na cluichí ceannais.
Fuarthas ardmholadh ón lucht féachana ar an gcludach sin agus fuaireamar 25% den sciar féachana in Éirinn an lá sin.