Recruitment Opportunity: HR Generalist/ Ginearálaí Acmhainní Daonna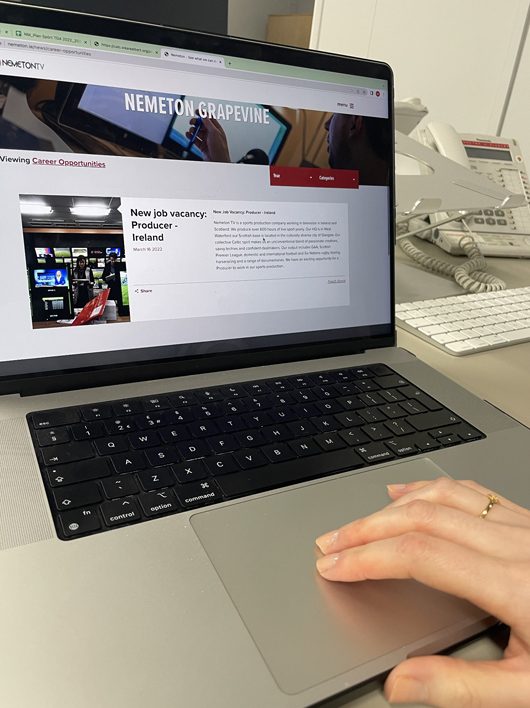 Ginearálaí Acmhainní Daonna/ HR Generalist
Nemeton TV is a sports production company working in television in Ireland and Scotland. We produce over 600 hours of live sport yearly. Our HQ is in West Waterford our Scottish base is located in the culturally diverse city of Glasgow.
Our collective Celtic spirit makes us an unconventional blend of passionate creatives, savvy techies and confident dealmakers
Our output includes GAA, Scottish Premier League, women's domestic and international football and six nations rugby, boxing, horseracing and a range of documentaries.
We have an exciting opportunity for a HR Generalist to work in our team in An Rinn, Dungarvan, Waterford.
Is comhlacht léirithe spóirt é Nemeton TV atá i mbun oibre in Éirinn agus Albain. Léirímid ós cionn 600 uair a' chloig beo in aghaidh na bliana. Táimid lonnaithe i nGaeltacht na nDéise agus i nGlaschú.
Tagaimid le chéile mar mheitheal neamhghnách de dhaoine cruthaitheacha, teicniúla agus gnó. I measc na gclár a dhéanann muid, tá CLG, Príomh Roinn na hAlbain, sacar agus rugbaí na mban (náisiúnta agus idirnáisiúnta), dornálaíocht, rásaíocht capall agus réimse clár faisnéise.
Tá deis shuimiúil fógartha againn sa Rinn i bPort Láirge do Ginearálaí Acmhainní Daonna.
Please click on the attached job description for a full overview of the role. If you wish to apply for this role then please send your cover letter and CV to hr@nemeton.ie.
The closing date for applications is Friday, 30th December 2022
Downloads