Our Strategies for Sustainable Productions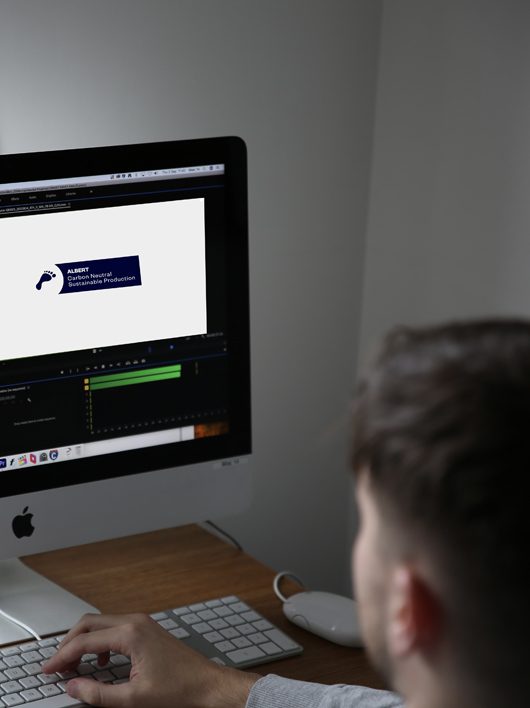 Tá Nemeton TV ag leanúint leis an bhfeachtas Albert a chur i bhfeidhm i mbliana chun tionchar timpeallachta an léiriúcháin a laghdú dá mhéad agus is féidir. Mar sin cuirifimd ár "Ráiteas Glas" le chéile i gcomhair ár gcláracha, go háirithe GAA BEO agus Laochra Gael.
Tá áthas orainn go bhfuil daoine ar bhord linn ar na gníomhaíochtaí atá faoi bhun againn. Tá ról le himirt ag gach duine ár gcuid a dhéanamh. Tá sé mar aidhm ag Nemeton dul chun cinn a dhéanamh ar ár dtuiscint agus ár gcleachtadh timpeallachta sna tionscadail amach romhainn.
Leis an áireamhán is féidir le léiritheoirí tuiscint níos fearr a fháil ar an tionchar atá ag a gcuid léiriúchán ar an timpeallacht agus dearbhú a fháil gur léiriúchán inbhuanaithe é. Trí roinnt eolas bunúsach maidir le láithreacha, stiúideonna, an criú, taisteal, lóistín, ábhar agus iarléiriú a chur isteach san áireamhán; tabharfaidh sé chomh mór is atá an lorg carbóin atá ag aon léiriúchán ar leith le fios. Tabharfaidh an t-eolas sin agus an fheasacht sin deis do léiritheoirí na hastaíochtaí sin a laghdú trí chleachtais inbhuanaithe a chur i bhfeidhm le linn an léiriúcháin.
Maidir le léiriúcháin ar mian leo a n-iarrachtaí inbhuanaitheachta a chur chun cinn, is féidir leo teastas albert a fháil a thugann aitheantas don léiriúchán as an tionchar atá acu ar an gcomhshaol a laghdú. Cuirfear lógó ar fáil má éiríonn leo gur féidir a úsáid i gcreidiúintí an chláir.
Déanann ár spriocanna thíos cur síos ar conas gur féidir linn ár gcuspóir a bhaint amach:
1. Laghdú dramhaíola: Mol criú agus rannpháirtithe buidéil agus cupáin in-athúsáidte a úsáid
2. Léiriúchán gan pháipéar: gan pháipéar a úsáid ach amháin má iarrtar air.
3. Polasaí gan páipéar a úsáid ach amháin má roghnaíonn daoine é. Beidh gach píosa paipéir fillte ar ais go Nemeton i gcomhair athchúrsáil.
4. Má tá printeáil ag taisteáil, déanfaimid printeáil ar an dá thaobh den leathanach.
5. Athchúrsáil ar an méid bruscair agus gur féidir linn.
6. Soilse, ríomhairí agus meaisíní a mhúchadh ag deireadh an lae
7. Taisteal a laghdú: carr le roinnt nuair is féidir, laethanta taifeadta a sceidealú le chéile chun an líon turas a laghdú
8. Bainimid úsáid as ola glasraí hidriginithe (HVO) ó Planet First Fuel i Sasana i ngach feithicil chun an lorg carbóin a laghdú.
9. Traenáil a thabhairt do gach duine atá freagrach as an léiriúcháin.
10. Cruinnithe, iar-léiriúcháin agus recces ar líne chomh minic agus is féidir.
Nemeton TV is a committed member of the Albert affiliation; working in partnership and getting support to be greener and reduce our carbon footprint. Nemeton is committed to becoming a more sustainable business and to helping create a more environmentally sustainable screen industry in Ireland.
We are now part of BAFTA's Albert scheme which focuses on reducing the environmental impact of productions, and we all have a responsibility to make positive changes and establish a workable and realistic plan to help decrease our carbon footprint.
By inputting some basic information about locations, studios, crew, travel, accommodation, locations, materials, and post-production; Albert's Carbon Calculator can monitor the extent of the carbon footprint on any given production.
This awareness will then allow us to attempt to reduce these emissions by implementing sustainable practices throughout our production. We all work together to reduce our impact.
Here are our goals on how the team intends to do that:
1) We aim to reduce or eliminate the use of plastic and polystyrene disposable products (e.g. cutlery, plates, cups). We ask all the team to bring reusable cups and bottles to shoots and to the office. We have designed our own branded flasks and bottles so use of these will be encouraged on a regular basis. No single use cups/bottles will be used.
2) We will carry out paperless meetings where feasible.
3) We will operate an opt-in policy for printing running orders, call sheets etc. Everything will be emailed and used paperwork will be returned for confidential shredding and recycling.
4) If we NEED to print, we will print double-sided.
5) We will RECYCLE – by using dedicated recycling bins.
6) All of the team will ensure lights and machines are switched off when not in use and overnight.
7) We will car-share as much as possible and schedule film days in close proximity of one another where possible to reduce amount of travel.
8) We use Bio Fuel from Planet First Fuel from the United Kingdom in our vehicles which has the potential to have a significant impact on reducing our Carbon Footprint
9) We will ensure sustainable production training has been completed by all relevant people.
10) Remote meetings, post-production and recces where possible.
TG4 is the first Irish broadcaster to introduce this as a mandatory requirement.
Keep an eye out for the Albert logo at the end of our programmes!