We're Recruiting… Nemeton TV Sport Apprenticeship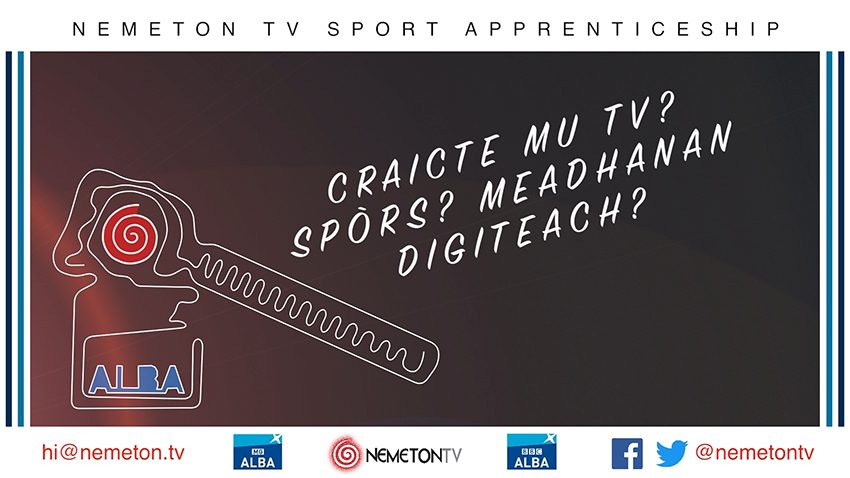 "Craicte mu TV? Spòrs? Meadhanan Digiteach? Ag iarraidh dreuchd a'dèanamh phrògraman spòrs dha BBC ALBA?"
"Love TV? Sport? Digital Media? Do you want a career in production, making sports programming for BBC ALBA?"
We're delighted to be launching a fantastic opportunity to work with us on our newly launched Nemeton TV Sports Apprenticeship in conjunction with MG ALBA. The year long course, based in Glasgow and Waterford, will provide the successful candidate with an introduction to the core skills required to work across live outside broadcast sport, in addition to creating digital and short film content.
The Nemeton TV Sports Apprenticeship scheme works with a Glasgow college to develop best-in-class courses to give apprentices a world-class foundation in Production. This is a year-long programme where you will get to work on a range of content, while studying towards a Level 3 Apprenticeship in Creative and Digital Media.
If you want a career in production, making sports programming for BBC ALBA, if you're passionate about making exciting, new content for TV, Digital and Online, or if you want your ideas to contribute to changing BBC ALBA's digital landscape, then there's no better place to start turning that dream into a reality than through gaining a place on the Sports Apprentice Scheme with Nemeton TV.
For more information on the apprenticeship scheme, an outline of the role, and the application requirements downloads are available below. Please note the deadline for applications is 31 May with the apprenticeship beginning in June.
Please note, candidates must have good spoken Gaelic.
Good luck, we look forward to receiving your applications at sara@nemeton.tv