Nemeton Spotlight Feature: Yvonne Weafer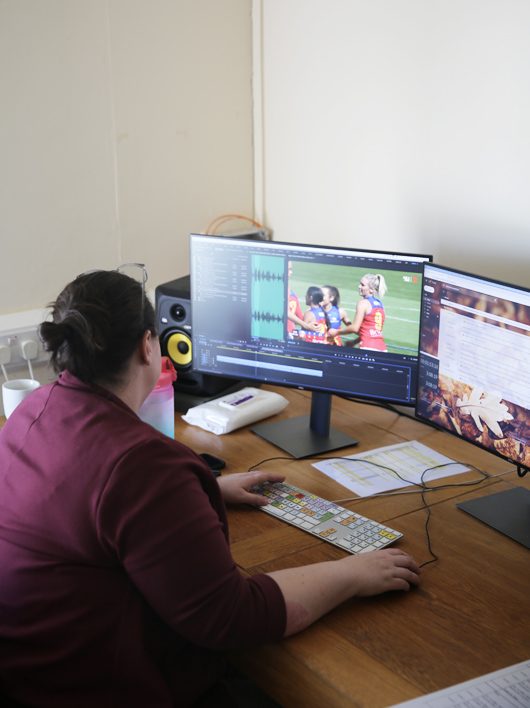 Is eagarthóir í Yvonne Weafer anseo i Nemeton TV. Tá sí ina cónaí i Loch Garman. Yvonne Weafer is an editor with us at Nemeton TV. She lives in Wexford.
Thosaigh mé ag obair anseo ar thaithí oibre nuair a chríochnaigh mé an Ard Dioplóma i 2016, beagnach sé bhliain ó shin anois! I started on work experience here right after I finished up with the Higher Diploma in TV Production in 2016, so nearly 6 years ago now!!
A typical day for me looks like this. Up at 6am to get my girls ready for creche drop off, then it's time for my 90min commute. I usually listen to an audio book or podcast in the car. Days can be pretty hectic depending on the project. At the moment it's the AFLW programme for TG4, so it's putting together highlights for 6/7 games with VO (voiceover) and GFX (graphics). When it's Laochra Gael it's diving into whatever chapter is on the cards that day, pull it apart and stick it back together. Hit the road for another 90 mins and get home just in time to read the girls a bedtime story.
An rud is fearr liom faoin bpost seo ná an cnaipe 'easpórtáil' a bhrú. My favourite part of the job is definitely hitting the export button. Haha! No, I love playing with things and finding a way to make things work together. Seeing how re-ordering things or giving things space to breathe can make a piece look so much better.
Is obair dúshlánach ach fiúntach é a bheith ag obair sa tionscadal teilifíse. Working in the TV industry is challenging but rewarding.
My highlights working here in Nemeton TV would be a toss up between editing a Laochra Gael featuring my childhood hero Liam Griffin and getting to visit Coolmore and see another hero of mine, Galileo.
I guess one of the most unique things about my job is being one of the few people to see all the stuff that doesn't make it into a programme. There is always so much that we just don't have time to fit in.