Nemeton Spotlight Feature: Michelle Ryan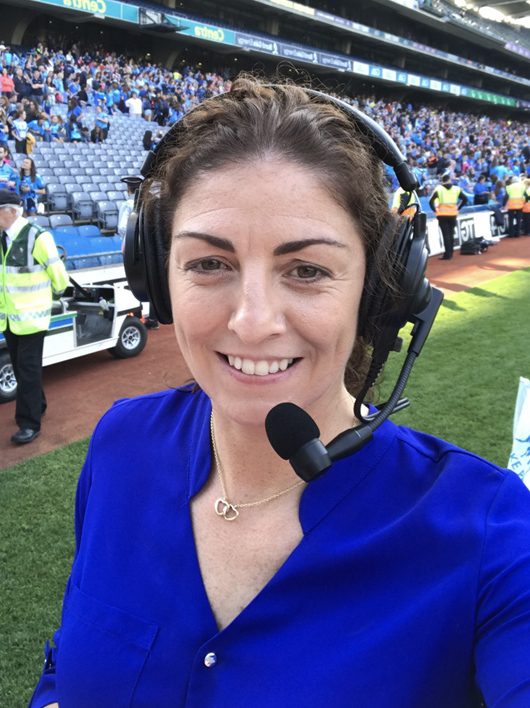 This week in our Nemeton Spotlight Feature series we hear from Michelle Ryan who works with us as an analyst on Peil na mBan BEO on TG4. Michelle plays football with Waterford club Ballymacarbry who are current Munster Senior ladies football champions.
My first time working with Nemeton was a round 3 double-header during the 2019 championship in O'Connor Park in Tullamore. I was a sideline analyst for the Mayo vs Donegal match and on co-commentary for Cork vs Armagh. I had no previous experience doing either of these live on TV and my most vivid memory is the overwhelming feeling of being out of my depth during the production meeting but by the end of the day there was a feeling of absolute exhilaration. I loved it! I remember it was also a bit tricky personally, as I was still playing intercounty football at the time & we were still in the championship so I was hyper aware of the possible pitfalls of commenting on other teams. This definitely became easier once I retired from playing.
There are nerves, anticipation and pressure on the morning of the games so, believe it or not, it can be somewhat similar to match day as a player in that sense. We generally arrive at the match venue two hours before the coverage goes live. The OB truck and all equipment and cameras are already in position & ready to go by the time we get there. The first few minutes are spent catching up with all the Nemeton crew, presenter Máire, fellow analysts & commentators. Then it's everyone to their stations where we get miced up for a sound & facs check with the director and producer in the OB truck. Once that's done everyone takes a break to fuel up which is great as some days can be quite long especially if it's a double header. After that we're back at it with a whole-crew production meeting and the producer talks us through the schedule from the moment the programme goes on air to the moment it's off-air. Then it's back to our stations again. If I'm on the sideline, there are a few rehearsals to do on-camera with Máire to ensure that timings and positions are right. But if I'm on co-comms it's back up to the commentary box to make some final notes & chat about the upcoming match with the lead commentator. We get to watch the teams arrive, go through their warm-ups & listen to the pre-match interviews as they're being pre-recorded so this time can sometimes be insightful as to what's to come. It's when the Peil na mBan Beo music starts playing in our headsets and the director says 'táimid beo, ádh mór' that the adrenaline really gets going. From there the day absolutely flies and you just go with it! Before I know it I'm back in my car, turning on a few tunes for the journey home so to decompress from the buzz of the day.
My favourite thing about this job has to be the opportunity to continue to engage with sport in a new but meaningful and enjoyable way since retiring from intercounty football. I enjoy the preparation and research leading into each game. As a player you focus on teams one at a time but as an analyst, you get to have a much broader and more informed overview of things which is important in order to do the players & teams justice. All the analysts are current or former players which also makes it a great opportunity to become friends off the field while trading opinions on various teams or aspects of the game. I have always spent most of my free time watching or playing matches so now getting to work on them on the biggest days, in some of the biggest GAA venues in the country, is a dream come true.
It has been eye-opening and I'm really enjoying it. It's fascinating to learn how things work on the TV production side on match day. TV production crew lead incredibly busy lives, they're always on the go! I definitely have a huge appreciation for the amount of work that goes on behind the scenes of a live production. I'm constantly in admiration of the lead commentators, presenters and director as they all have a remarkable ability to juggle and process so much at the one time. As soon as the programme goes live the commentators and presenter are constantly following instructions & cues in their earpiece, all while steering conversations or describing the action. It's very impressive! Also, I now know that so many things are easier said than done when it comes to their roles and skills. You really can't underestimate some of the essential skills that are often called upon such as being able to 'hold the fort' when air time needs filling during breaks in play or while waiting to get Laoch na hImeartha and bainisteoirí into position for interviews. Not as easy as it may seem!
Everyday that I get to work in Croke Park is an absolute thrill. You get to live the games in the best of settings in a whole different way to being a player or spectator. The absolute pinnacle would have to be being co-commentator beside the legend that is Brian Tyers for the most memorable of senior LGFA finals last year between Meath and Dublin. Brian is one of the most distinguishable voices of Gaelic Games on TV for so many people of this generation so it's always a privilege being beside him. As co-commentator you really feed off the energy & experience of the lead commentator and he makes that incredibly easy. The victory for Meath that day, the incredible electric atmosphere and the celebrations after the final whistle were genuinely spine-tingling. It was a privilege to be working on a game like that on such a historic day and it will be very hard to top….unless Port Láirge win the Brendan Martin again of course!
Everyone on the team is very good at what they do & the quality of the production is always excellent. It's a high pressure environment once the programme goes live but everything and everyone knits together very well from start to finish. The production team are always looking out for us as analysts and are always willing to give helpful advice if we want it, with a special mention to the Bainisteoirí Urlár, who always keep us on track ar an taobhlíne. Working with the Nemeton crew is also really good fun as everyone knows each other pretty well so the atmosphere at each venue is always warm & great. There is always plenty of good humour and banter among everyone throughout the day especially when we're off air and this makes the time pass quickly and easily. It's a great job!