Nemeton Spotlight Feature: Jarlath Burns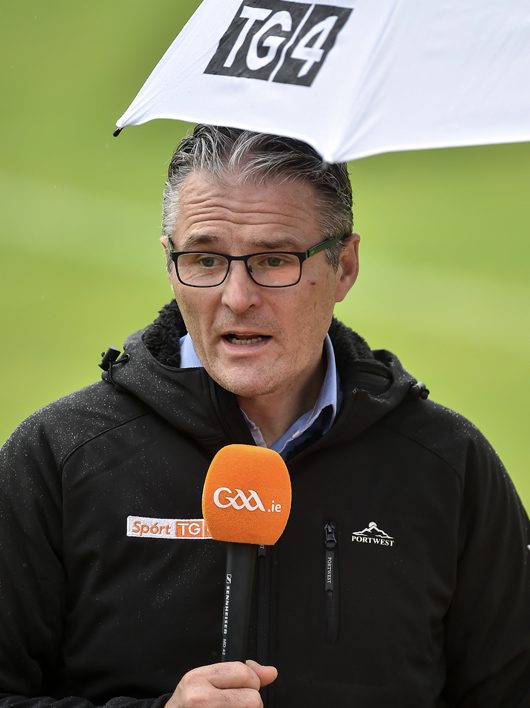 Former Armagh Football Captain and current Spórt TG4 analyst, Jarlath Burns chats to us about his time working with Nemeton TV on GAA BEO.
Táim ag obair mar anailisí ó 1999. Mo shaol ar fad, beagnach!
I'm working as an analyst since 1999, my whole life, nearly!
It is important to be at the ground around 3 hours before throw-in. This allows for any mishaps you might have on the journey because after the opening titles roll, you have to be there! We usually have a bit of bia (food) which is followed by a cruinniú léirithe (production meeting), which is when you get to see all the work that has gone into preparing for the programme. There's an amazing Behind the Scenes team which works so hard to make life easy for us on the day of the match – right up to providing us with superb research into the teams, which can be handy if it's a club final or university match.
An rud is fearr liom faoin bpost seo ná go bhfuil seans agam obair a dhéanamh le daoine a bhfuil grá mór acu do na cluichí agus eolas iontach acu orthu chomh maith.
My favourite part of the job is getting to work with people who love the games so much and know so much about them. You also pick up great skills such as watching the match, listening to the commentary, listening to the voices in your ear from the directors & trying to work out who might be Laoch na hImeartha (Man of the Match). I always ask my friends & family to text me who they think deserves MOTM & still I can get it wrong!
It's an enjoyable feeling knowing that you're going to play a small part in the narrative of the game. Of course, as a former player, I'd love to be out in the middle of things, but this is a good second best. It's also great to speak Irish in such a setting.
Cuireann sé áthas orm a bheith ag labhairt ár dteanga dhúchais agus mé ag féachaint ar ár gcluichí dúchais.
Speaking our native language while watching our native games is something which makes me very happy! You get to work with incredible people & be part of the amazing project that is GAA BEO. The team really care about making the programme what it is.
Micheál Ó Domhnaill in front of the camera with no script, no autocue & no studio, just doing his thing is surely a sight to behold. An bhfuil aon chraoltóir in Éirinn níos fearr ná Micheál? Is there a better broadcaster in Ireland than he?
You never know what is going to happen when the ball is thrown up & you're there to help create that picture. Your judgements, adjudications & analysis form such a part of the 'scéal an chluiche' & you have to be fair to both teams.
There's almost a tradition now that if you're covering a county final & the minor game has just concluded, the winning minor team undergoes a 'friendly attack' on our position at the side of the pitch. That's always a great laugh!!