Nemeton Spotlight Feature: Aoife Ryan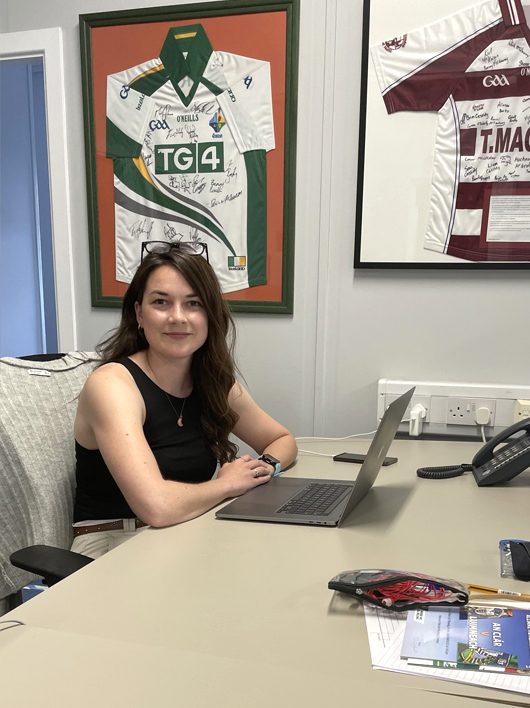 This week in our Spotlight Feature series we chat to Aoife Ryan from Wexford who works with us as a TV & Digital Producer.
Táim ag obair le Nemeton le 7 bhliain anois tar éis cúrsa Ard Diplóma i Léiriú Teilifíse a chríochnú i 2015. Bhí mé ar bís chun dul le Léiriú Teilifíse mar shlí bheatha. An rud atá ar súil agam faoi láthair ná a bheith i mo léiritheoir sa rannóg spóirt agus ag déanamh margaíocht dhigiteach don chomhlacht. Mar léiritheoir, oibríonn tú le foireann spóirt i rith na seachtaine, déanann tú ullmhúcháin ar na cluichí beo atá ag teacht suas agus déanann tú maoirseacht ar rudaí ar lá an beochraoladh. S'iad na rudaí a bhaineann le sin ná sceideal léiriúcháin a chur le chéile, scriopt a scríobh don láithreoir, criú a chur in áirithe, ord reatha a chur le chéile agus maoirseacht a dhéanamh ar an eagarthóireacht.
I began working in Nemeton seven years ago in the summer of 2015. I had just completed the Higher Diploma in TV Production in SETU (formerly WIT) and was eager to start my career in the TV industry. At the moment I am splitting my time between working as a Producer on GAA BEO for TG4 and doing Digital Marketing for the company. As a producer, you work closely with the sports production team and prepare for upcoming Live OB Productions, and then oversee those productions when they happen. That might entail creating production schedules, writing scripts for presenters, booking talent, assembling running orders and overseeing edits.
Tá gach lá difiriúil sa phost seo agus is aoibhinn liom é sin. Tá deis agat a bheith cruthaitheach agus do scileanna a thaispeáint.. Is breá liom a bheith ag obair trí mheán na Gaeilge agus tá an t-ádh linn go bhfuilimid lonnaithe i gcroí na Gaeltachta anseo sa Rinn.
I love that every day is different in this industry and you get the chance to be creative and put your talents to good use. We're lucky to be using the Irish language in work and that we are based in the Waterford Gaeltacht.
Bíonn sé dúshlánach ag obair i dTeilifís le uaireanta mírialta agus sceidil daingean. Ach, is obair luachmhar é nuair a mbíonn do chlár craolta ar theilifís agus nuair atá aiseolas maith faighte agat air. Foghlaimíonn tú formhór dena scileanna teilifíse agus tú ag obair sa ról. Oibríonn tú do bhealach aníos trí na céimeanna nuair a fhaigheann tú an méid taithí is gur féidir leat ar an tslí. Uaireanta tá tú lonnaithe san oifig agus laethanta eile bíonn tú amach ar an mbóthar ag scannánaíocht. Buaileann tú le roinnt daoine sa phost seo chomh maith, is cuma cé acu láithreoirí, réalta spóirt, aíonna nó criú saoroibrithe atá i gceist. Mar sin caithfidh tú a bheith díograiseach, eagraithe agus cáirdiúil. Cuirfinn comhairle ar dhaoine, chomh maith, chun éadaí oiriúnach a cheannach agus iad ag tosnú amach ag obair i dteilifís (ach ní thógaim mo chomhairle féin an t-am ar fad!).
Working in Television can be challenging due to irregular working hours and working to tight schedules but it is extremely rewarding when you see a programme you worked on being broadcast on television and receiving good feedback. It is also the type of industry that you can learn most of the skills on the job and work your way up through the ranks by gaining as much experience as you can. Some days you work in the office, other days you are on location on a shoot. You meet lots of people on the job too, whether it's the presenters, sport stars, interviewees or freelance crew so you have to be dedicated, organised, outgoing and friendly. I'd also advise anyone starting out in television to invest in good waterproof gear and appropriate shoes! (Not that I necessarily make good use of this advice myself.)
D'oibrigh mé mo bhealach aníos trí na céimeanna, ar dtús mar cuntóir léirither, taighdeoir, léiritheoir cúnta agus ansin go léirtheoir. Tá bród orm oibriú ar na cláracha a mbíonn ar dteilifís agus na gcéadta mílte daoine ag féachaint orthu. Is timpeallacht spreagúil é agus oibríonn tú in áiteanna aisteacha uaireanta chomh maith… ach is é an aidhm ná teilifís den scoth a chruthú. Rinne mé scannánaíocht in áiteanna fíorálainn cosúil le Easanna na Machan insna Comaraigh i bPort Láirge agus Cionn Mhucrois i nDún na nGall, chomh maith lena páirceann ar fud na tíre. D'itheas borróg agus tae i seomra na réiteora lena hoifigigh ar fad ag cluiche Peil na mBan ag leathama lá amháin.
I have worked my way up from Production Assistant to Researcher and then Assistant Producer to Producer. I am proud that all the programmes I have worked on have been broadcast on television for hundreds of thousands of people to see. It is an exciting environment to work in and sometimes you find yourself in bizarre situations.. but it's all in the name of making good television. I have filmed in beautiful locations like Mahon Falls in Waterford and Muckross Head in Donegal, while also filming at multiple GAA pitches around the country. Once, at a Peil na mBan match that we were covering for TG4, I found myself having tea and buns in the referee's room with the officials at Half-Time.
Tá an post seo uathúil mar is meascán é de sport, Gaeilge agus teilifís faoi aon díon amháin. An lá is fear liom agus mé ag obair le Nemeton ná an lá a bhí an bua ag bhfoireann rugbaí Laighean sa chomórtas PRO12 i Staid Aviva i Mí Bealtaine 2018. Bhí an t-atmaisféar ar fheabhas agus bhíos ar an bpáirc cóngarach le gach rud, in ionad a bheith insan seastán. Bhí mé ann i gcomhair ardú an Choirn, agus bhí deis agam é a ghabháil i mo lámh féin roimh ré.
This job is unique in that it includes a combination of sport, the Irish language and TV all under one roof. One of my favourite days of work was seeing the Leinster rugby team lift the Pro12 trophy in the Aviva in May 2018. The atmosphere was incredible and seeing it from a few feet away was 100 times better than watching on from the stand.
Is aoibhinn liom an tslí go bhfuil Nemeton lonnaithe insan Rinn, díreach lasmuigh de Dún Garbhán i bPort Láirge. Tá an áit fíorálainn agus ní bhíonn leadrán ort ag am lón toisc gur féidir leat dul go dtí An Cuinigéar nó caife a cheannach i gCeann Heilbhic. Is féidir leat tiomaint isteach go dtí an Baile Mór más maith leat agus tá rogha iontach bialanna agus caife ar fáil.
I love that NemetonTV is based in An Rinn just outside Dungarvan in Waterford. The area is incredible so lunchtimes are never boring when you can go for a walk on the Cunnigar or get a coffee at Helvick Head or drive into Dungarvan to pick from a range of beautiful cafés to eat and drink in.