Nemeton Spotlight Feature: Aoife O'Connor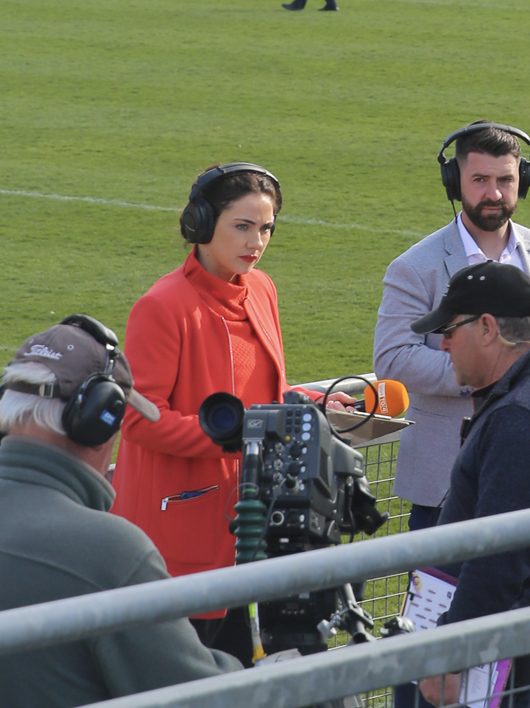 This week in our Spotlight Feature series we hear from our GAA BEO analyst and three-time All-Ireland champion with Wexford Camogie, Aoife O'Connor.
Thosaigh mé ag obair le GAA BEO 5 years ago (I think!). I had done some work prior to that on camogie with TG4 and I had also been on Seo Spóirt. But the real stuif started with GAA BEO! 5 bliana den scoth!
Braitheann sé agus athraíonn sé. A typical day will be dictated by the start time of the game and time needed to travel to the venue. We are usually at the grounds a few hours beforehand so uaireanta caithfear éirí go luath go háirithe de bharr hair and make-up! You have to be ready to on arrival. Once at the grounds you meet Odí the floor manager, familiarise yourself with the location, have a cruinniú léirithe, maybe do some cleachtadh with Mike (Micheál Ó Domhnaill) and get the bia into you!
My first few production meetings with Fintan and Maidhcí were a 'deep end' experience! I'm up to speed with that side of things now but I'm still in awe at the process and the precision of what goes unseen behind the scenes, to create what is so fluid on screen. The inside of the OB is like a spaceship idir na scaileáin, na mílte cnaipe, and everyone tucked in operating the technology and ag déanamh anailíse. The final product on screen is very familiar at this stage in Irish GAA homes and is always ar fheabhas ar fad.
An rud is fearr liom faoin bpost ná bheith ag bualadh le agus ag foghlaim ó na daoine is fearr san earnáil! My favourite part of the job is meeting and learning from the best people in the industry!
TG4s coverage of GAA was the weekend highlight for me as a supporter. The service they have provided in Ireland has been ground-breaking and so valuable to lovers of GAA and all the other sports they cover. It's a privilege to now get to be part of that, and I have learned so much! Is múinteoir Corp Oideachais agus Gaeilge mé so this job combines 2 of my greatest loves and I get to learn from the best!
Brian Tyers' Irish is beautiful and what a phenomenal memory he has. Mike in front of camera is poetry in motion. It's a lesson every day to watch them in action.
Besides all that I just love watching matches and I love to watch people fulfil their potential and achieve something really special. We get to see first-hand many of life's greatest moments for those involved in the games. It's very humbling and inspiring.
D'athraigh an chéad ghlaoch a chuir Fintan orm an-chuid rudaí domsa agus bhí an t-aistear ó shin dochreidte. Fintan's first call to me changed many things for me and the trip ever since has been unbelievable.
I had just had 2 babies in quick succession and life was very different from the glory days of my youth, camogie and all the rest. This opportunity pushed me into a challenging, rewarding and exciting new world, which was a complete tonic at the time!
Work in this industry has been so enjoyable. The people involved make it very easy. It has been a privilege and a huge learning experience, and there has been so much support and guidance from the Nemeton team. I love how TG4/Nemeton have been a benchmark for the inclusion, coverage and promotion of women's sport. They have been to the forefront of the movement, and deserve a lot of credit for their role in that.
Then of course, there's the highlight of seeing players up close. You have one knowledge of the person as an athlete producing these amazing performances, but you also get to see that they are human in a very demanding world.
Highlights? Ok, ag bualadh le Maidhc ar an gcéad lá! Ok, meeting Mike on day one! Star struck!
There have been many great days but one that stands out is the league final of 2019 when Limerick beat Waterford in Croke Park. It was a superb occasion – the weather was beautiful, playing conditions were perfect and the atmosphere was noisy and celebratory. TG4 pres was right on the pitch. Limerick announced their hurling dominance that day. It was my first league final and maybe that's why it stands out for me.
This year's league final was pretty special also. The GAA BEO presentation area was particularly cool, and obviously, it was a great day for Waterford.
Tá an-chuid le moladh faoin bpost seo. There are many great things about the job. The people are certainly unique and gan amhras high achievers - whether that's in a television and production sense, or as regards the former players you meet. It's a professional environment where you are surrounded by incredibly smart people.
Secondly you are seeing great occasions up close and that is a huge privilege. As a child you dream of playing senior level for your club, you dare to dream about playing for your county or of winning All Irelands. You've watched your heroes do it, mostly via the medium of television…and its docreidte (unbelievable) to now get to see that from the inside. It's very unique indeed.