Incorporating Irish into our work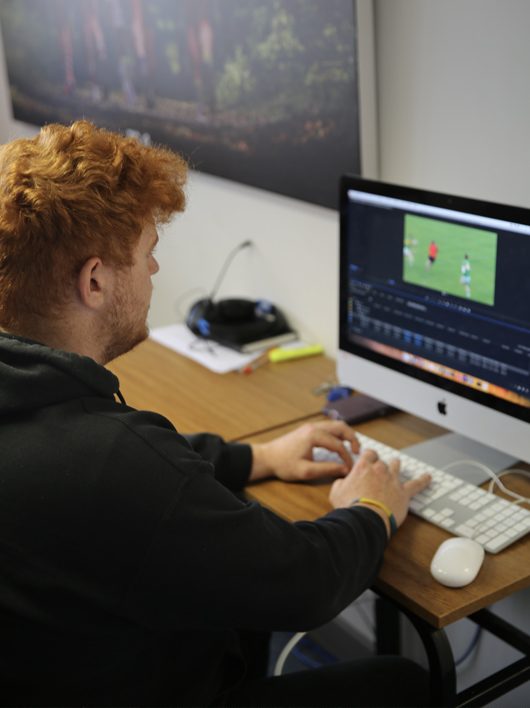 Úsáidimid Gaeilge gach uile lá anseo i Nemeton agus seo an tslí go ndéanaimid é.
Tá na comharthaí timpeall an foirgnimh agus lasmuigh den fhoirgnimh as gaeilge.

Páipéarachas as gaeilge don cláracha ar fad.

Scríobhaimid scrioptanna as Gaeilge i gcomhair na cláracha ar fad a dhéanaimid.

Comhrá as gaeilge lena chéile sa chistin agus insan oifig. Bíonn comhrá againn agus muid ag ól cúpán tae nó caife sa chistin.

Úsáidimid Gaeilge ár na leathanaigh mheán sóisialta.

Scríobhaimid ár ríomhphostanna i nGaeilge.

Suíomhanna idirlíona a úsáid le Gaeilge – gramadach.

Déanaimid ár gcruinnithe as Gaeilge.

Bíonn daoine cabhrúil nuair atá ceist gramadaí nó ceist eile faoin ngaeilge againn.

Téarmaí: Tá liosta curtha le chéile againn le téarmaí teilifíse, téarmaí spóirt agus tá sé sin an-áisiúil dúinn i gcomhair líofacht agus litriúcháin.

Déanaimid taighde ar litriúcháin aimneacha na clubanna i gcomhair clár GAA BEO.

Deirimid "Dia dhuit, Nemeton?" nuair a fhreagraímid an príomhfhón.
Here are ways we incorporate the Irish language into our day to day working lives.
All the signs inside & outside the building are in Irish and English.

Any paperwork for our programmes are written in Irish.

We write scripts in Irish for all the programmes we make.

We chat in Irish with one another in the kitchen over a cup of tea/coffee and in the office.

We use Irish across our social media platforms.

We write all our emails in Irish.

We use Irish language websites in our day to day jobs, whether it's Tuairisc.ie to read a sports article or a grammar website like Teanglann.ie to help with pronunciation of words.

We carry out our meetings in Irish.

We help each other with any queries if we're stuck. If you want to know a phrase or a word or even to get someone to look over your Grammar, everyone wants to help each other out.

We have gathered a list of terms to use in Irish, whether it's tv related words and phrases or sports related phrases, and everyone can use this to help with their fluency and spelling.

We always extensively research GAA club names in Irish so we have it correct for any GAA BEO programme.

We always answer the main phoneline with "Dia dhuit, Nemeton"?