Gaelic Games close to our hearts at Nemeton
June 29 2022 | Posted in:
Sport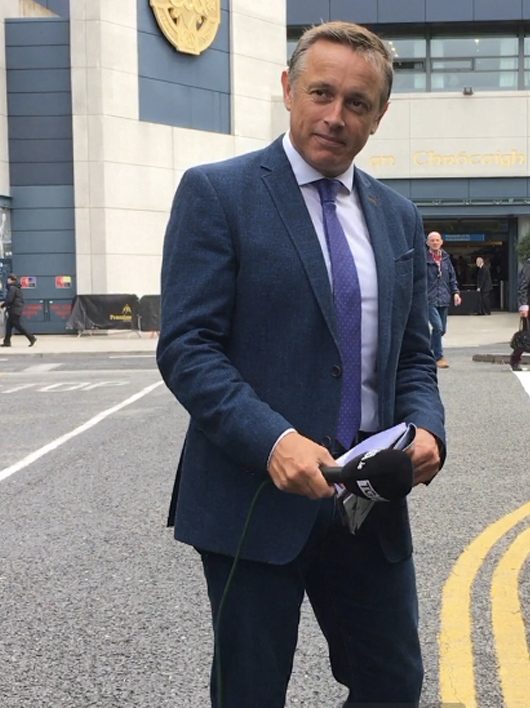 Gaelic Games are close to our hearts here at Nemeton TV.
We first made a GAA programme for TG4 26 years ago in 1996, in the form of an hour-long highlights/ interview package of the Galway Senior Football Final between An Cheathrú Rua and Oranmore.) We know that the GAA is part of the fabric of our society.
In our GAA BEO programme on TG4, we cover an extensive list of competitions both on television and online, including county finals, the Christy Ring, Lory Meagher & Nicky Rackard finals, the Allianz Hurling & Football Leagues, the AIB Club Championships, the Sigerson & Fitzgibbon Cup Finals, the O'Connor Cup final, the Eirgrid All-Ireland U20 Football Championship, the O'Neill's All-Ireland U20 Hurling Championship, the Electric Ireland Minor Hurling & Football championships, Comórtas Peile na Gaeltachta, the O'Byrne Cup final, the McKenna Cup final, the Walsh Cup final, the FBD Connacht League final, the Hogan & Croke Cup finals, the Underdogs Final, the CurrentAccount.ie Ladies Football Club All-Ireland Final, the Lidl Ladies Football League Finals and Craobh TG4 i bPeil na mBan.
TG4 have been title sponsors of the All-Ireland Ladies Football Championships since 2001. TG4's commitment and dedication to Ladies Gaelic Football has helped the sport to prosper to unprecedented levels with record attendances at the TG4 All-Ireland Finals & record viewing figures in recent times.
GAA BEO broadcast 5 Allianz leagues finals on TG4 last April and the weekend's action had a reach of 756,000 for the games. The Allianz National Football League Division 1 final was the biggest hit with TG4 viewers as an average audience of 228,000 watched Kerry take on Mayo. We were also widely applauded for our innovative 'picture-in-picture' coverage, which showcased all the drama of the final rounds of the Allianz leagues.
Every Monday we make a highlights programme called GAA 2022, with action from all the major Gaelic Games competitions that took place at weekends, this sometimes includes rounders and shinty!
Our GAA documentary series Laochra Gael has now entered the filming stages of the 21st series. This hour long programme consisting of 8 episodes will be shown on TG4 in Spring next year, offering a fresh batch of profiles of legendary players of the modern era. We also recently made a documentary for TG4 about GAA legend Éamonn Ryan which was shown in December last called 'Éamonn Ryan: An Máistir'.
As well as these shows, we also make programmes on other aspects of GAA in the form of Cúil na Bliana, Cluichí na Bliana, Cúl Camps, GAA Gold, Scór, Scór na nÓg, Foireann na Bliana, Réalta Pheil na mBan and Gradaim an Uachtaráin for TG4.
At the start of every year we film interviews with the recipients of the Gradaim an Uachtaráin, the prestigious annual GAA awards which acknowledge the outstanding commitment & long service across the club and county network, people who have shared the common theme of making an inspirational impact on their code and also their club and community. The awards are given to those who are not motivated by recognition, but who have made an invaluable contribution to the GAA. These short videos are shown during our live broadcast of the Gradaim an Uachtaráin awards ceremony in Croke Park every year, presented by our GAA BEO presenter, Micheál Ó Domhnaill.
Also, in recent years, we have worked with TG4 to stream the Scór competition live on their Trad TG4 Youtube channel & make an hour long highlights programme which is broadcast on TG4 a week after the event.
Scór is a GAA competition that combines all the colour & rivalry of Gaelic Games with the social/fun element of Ireland's traditional past-times. The competition was established by the GAA in 1969 with the aim of promoting Ireland's traditional pastimes & culture while offering club members the chance to meet up, have fun & represent their club during the winter months while Football & Hurling had ceased.
There are eight events/disciplines in Scór that cover all aspects of Irish culture: Figure/Céilí Dancing, Solo Singing, Ballad Group, Recitation/Scéalaíocht, Nuachleas/Novelty Act, Instrumental Music, Set Dancing and Table Quiz. The competition is divided into two age levels, Scór na nÓg, for young people under 17 and Scór Sinsir, for those over 17.
Head of Sport in TG4, Ronán Ó Coisdealbha said: "It's not just about the live match, we try to provide a service to the entire GAA family. I hope that we've given a good commitment to the GAA in the same way that the GAA have been very good to us in giving us the permission to shows these games. It's a two-way street but it's worked really, really well for us. The GAA is good for TG4 and TG4 I hope is good for the GAA because we give them a lot of coverage. I think it's a win-win situation for everyone. Long may it continue."
Nemeton TV CEO, Irial Mac Murchú said "We're a live sports production company and we will happily oblige with as many live matches that we can manage to get on television. You have to bear in mind broadcasters only have so much space in their schedules but for us it's a case of have the skills, have the capacity, will broadcast."