Gaeilge on the Outside Broadcasts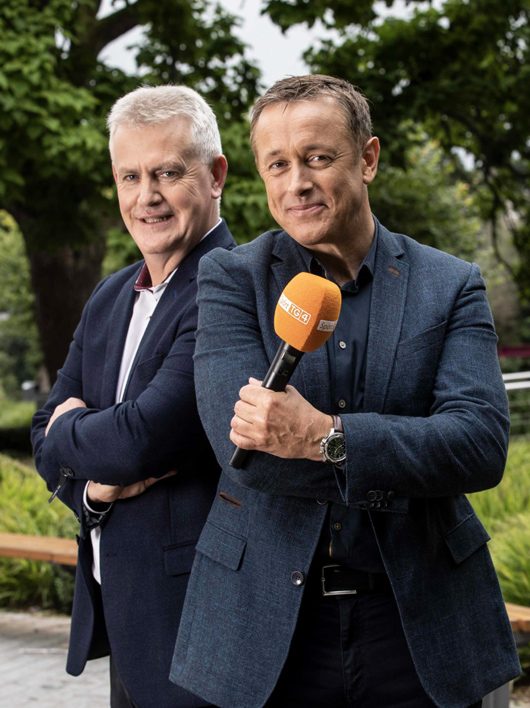 Úsáidimid Gaeilge gach uile lá anseo i Nemeton agus nuair atáimid ag obair ar na beochraolta gach deireadh seachtaine. Seo an tslí go ndéanaimid é.
Here are ways we incorporate the Irish language into our day to day working lives out on the OBs.
Páipéarachas as gaeilge don cláracha ar fad. Scríobhaimid an ord reatha agus na scrioptanna as Gaeilge i gcomhair na cláracha ar fad a dhéanaimid. Any paperwork for our programmes are written in Irish. We write scripts and running orders in Irish for all the programmes we make
Comhrá as Gaeilge lena chéile ag na cluichí. We chat in Irish with one another at the matches.

Úsáidimid Gaeilge ár na leathanaigh mheán sóisialta GAA BEO. We use Irish across our social media platforms.

Scríobhaimid ár nótaí léiriúcháin sna ríomhphostanna i nGaeilge. We write all our production notes emails in Irish.

Déanaimid ár gcruinnithe léirithe as Gaeilge leis an gcriú. We carry out our crew meetings in Irish.

Bíonn daoine cabhrúil nuair atá ceist gramadaí nó ceist eile faoin ngaeilge againn. We help each other with any queries if we're stuck. If you want to know a phrase or a word or even to get someone to look over your Grammar, everyone wants to help each other out.

Téarmaí: Tá liosta curtha le chéile againn le téarmaí teilifíse, téarmaí spóirt agus tá sé sin an-áisiúil dúinn i gcomhair líofacht agus litriúcháin. We have gathered a list of terms to use in Irish, whether it's tv related words and phrases or sports related phrases, and everyone can use this to help with their fluency and spelling.

Déanaimid taighde ar litriúcháin aimneacha na clubanna i gcomhair clár GAA BEO. We always extensively research GAA club names in Irish so we have it correct for any GAA BEO programme.