Did You Know we used to cover La Liga?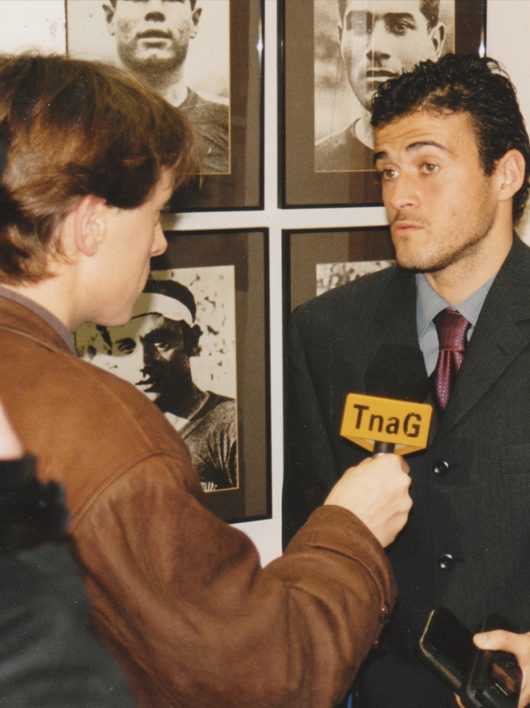 Did you know Nemeton TV used to cover the Spanish La Liga?
In the mid 1990s, Nemeton TV secured the Irish-language rights for broadcasting Spanish premier league football, and the programme was called Olé, Olé.
According to Nemeton TV CEO Irial Mac Murchú, the programme was born out of conversations with Teilifís na Gaeilge at the time where we were trying to impress upon them that they had to have a sport on the new channel and trying to figure out what we could do differently.
We sent someone to Barcelona every weekend for the first 6-8 weeks to collect tapes and bring them back to the studio.
Later, we erected Satellite dishes out the back of the building.
This meant we could take in the matches, edit them, put Irish language commentary & graphics on them & send them up to TnaG (now TG4) via courier. Irial remembers that "we were very lucky at the time because technology had just starting evolving. Instead of having to spend £500,000 on an edit suite, there was non-linear editing. So we were able to digitise our pictures into a Mac and cut the pictures from there rather than tape-to-tape editing which many established broadcasters were still doing at the time. Our satellite link for incoming pictures and our very fast drivers for outgoing pictures enabled us to do it – just about!"
Mícheál Ó Domhnaill was the Olé, Olé presenter, introducing the show from a small studio and linking between various games. Brian Tyers, meanwhile, was on commentary duty. Micheál recalls that "the original role was as a researcher but it being TG4, you couldn't justify just having a researcher. You'd have to be doing something else as well. And so Irial said they needed someone to stand in front of the camera and introduce the clips and go over there the odd weekend."
Micheál had lived and worked in Spain for a number of years so was comfortable with the language, (thus helping get the initial contract over the line), the geography and La Liga so the crew started going to Spain once a month to present the show from there.
"Access to players was so much easier," he says. "First of all, you could go into the stadium a couple of hours before the match and as long as you didn't go on the pitch, you could film your links from anywhere you liked. You had total free rein. And then during the match, you sat up against the advertising hoarding. The ball often came over and you'd throw it back and look up and there'd be Luis Enrique or Rivaldo taking the ball off you. Then you'd go to the mixed zone afterwards and the players would just be hanging out. They always stopped, especially when you said you were from Irish TV. They often just loved the idea that people in Ireland would be interested in #Spanishfootball. It was a mad idea to them really."
Irial: "This was beyond our wildest dreams – young fellas from west Waterford being able to interview these superstars, these international soccer stars like (Predrag) Mijatovic, Raul, Pep Guardiola, Ronaldo. It was amazing. "
Broadcasters like Sky swooped in to take control of the La Liga broadcasting package, and by 1999, Olé, Olé was struggling to compete. It was reduced to a half hour production as TnaG began to dedicate more resources to covering live action, namely GAA games… but that's a different story!