Did You Know: Laochra Gael started in 2001?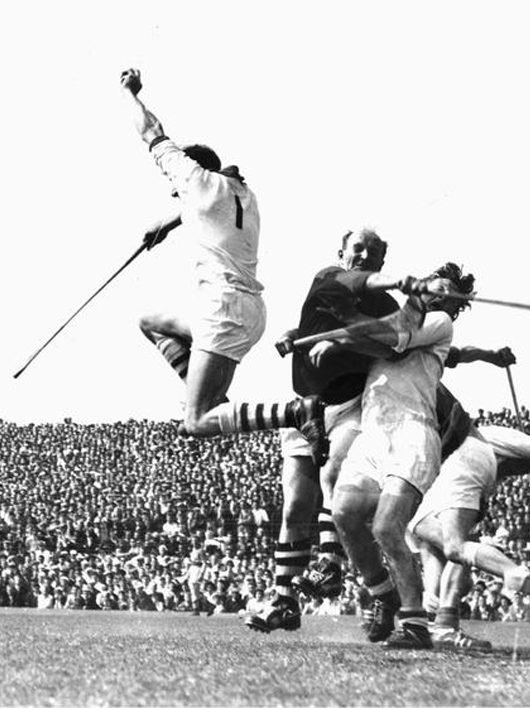 Did you know our Laochra Gael series started out in 2001?
Nemeton CEO Irial Mac Murchú was there from the inception of this famous programme at a time when the Irish television landscape was a place full of possibilities for independent production companies:
"Back in those days, at the end of the century, there was very little GAA on television. That might be hard to believe in this day and age but apart from championship coverage, there was no GAA. They had just started doing live coverage of the league and clubs for TG4 but we knew that we could delve deeper into the world of GAA. And in looking at that, we thought about 'what is the essence of the GAA?' It's the players, the characters, the games and all of that. It's a really simple concept; let's do a series on GAA heroes."
"I remember at the time, the local pub down the road from me was a pub full of GAA experts. They talked about the day's matches and what was going to happen for the rest of the year. But it nearly always ended up in a conversation about 'who was the greatest full-forward' ever or the 'greatest corner-forward'? And when you ask that question, all it takes is a small leap of imagination to say 'well let's do a half-hour documentary about Pat Spillane.''
Mac Murchú had never seen a TV programme like it before, in Ireland or beyond. We had no other examples to lean on for guidance with the format or structure.
"We had no satellite television," he remembers. We had no Netflix, nothing like that. It was two or three-channel land at the time."
But we were dialled into the GAA conversation. We were fans. TG4, which was established in 1998, was still a new TV channel in Ireland. They needed sports content, and Mac Murchú pitched their Laochra Gael idea to the Irish language station.
For our pilot programme, Mac Murchú interviewed fellow Déise man Ned Power who was the goalkeeper on the Waterford team who captured the 1959 All-Ireland SHC title.
After that, TG4 gave us the green light for their first series which consisted of 10 episodes. That inaugural season featured a stellar cast of GAA legends including Ger Loughnane, Brian Cody and Páidí Ó Sé.
Laochra Gael was a television sensation from day one.
"People couldn't get enough of it," Mac Murchú recounts of its instant popularity. "We got so many letters. Everywhere we went, we were the Laochra Gael people. It was being put out there as an accolade at funerals that a Laochra Gael had been done on them. We thought at first that we'd get a year or two out of it. And then maybe five years, and here we are now 18 years later and it's still going. And it's evolved from a half-hour series to an hour-long series. When it was first established, Laochra Gael was a half-hour show. The focus of the episodes were very much centred on the player's achievements, and the defining moments of their careers."
For the 2010 and 2011 seasons, we reinvented the wheel and used the episodes to look back on some historic rivalries across hurling and football. Subsequently, we reverted to the original format of dedicating each episode to one GAA figure.
By 2016, the length of the shows had been extended to one hour. The sporting aspect of their lives was still at the core of the Laochra Gael programme, but more human and personal elements were also introduced.
But throughout the 21 years of filming, building a relationship of trust with the subjects has always been paramount to our approach.
As it turned out, being Gaeilgeoirs enabled us to make our interviewees feel at ease in our company.
"What we found at the beginning was people were a little bit suspicious," Mac Murchú explains. "They had no experience of media other than the traditional journalists who rang you on a Sunday night and filed their copy for Monday morning. And even post-match interviews weren't really a thing back in those days. So we had to build up that trust. People trusted us more because we were Irish speakers. In some way, we weren't perceived as belonging to the big bad world of media. I know that's funny to say now because there's so much Irish language media now. But back then, it certainly made a difference. People won't expose themselves to you for a television documentary unless they really trust you. The more we go through the years and the more characters we get to talk to, and the more programmes we do with that integrity, the easier it becomes."
At the outset of each series, Nemeton could have up to 100 potential candidates for a Laochra Gael before settling on a shortlist.
An interview with the star at the centre of the programme kickstarts our filming process, and helps them build the episode around it. Sourcing archive footage is another step towards the final product as well as speaking to the people who played an important role in their lives.
County Clare's All-Ireland winning hurling manager and ex-player Ger Loughnane was the subject of the first Laochra Gael, broadcast in May 2001.
"At the time it was mostly GAA club and league games we were covering," he tells, "which meant we had no work for our staff over the summer months. We wanted to provide full-time work for them, so I approached TG4 with the idea of a doing a documentary series on former players and managers."
By then, Nemeton and TG4 had already established a fruitful working relationship, stretching back to the station's launch in 1996.
Never in his wildest dreams did Mac Murchú imagine that two decades later the series would become one of the most watched programmes on the station, now in its 21st series. 185 documentaries have been broadcast since 2001.
"I will never forget the first discussion with TG4," he adds. "They were looking for a long-running GAA documentary series whereas I thought we might get 10 episodes out of it."
The decision in 2018 to extend the show from 30 to 60 minutes helped solidify its reputation. Trying to fit a person's whole career into a half an hour was very difficult. In the hour-long format we get a better picture and the audience prefer it.
In 2016 GAA President Aogán Ó Fearghail said "Laochra Gael has become an integral part of the GAA broadcasting landscape and has successfully brought the exploits of so many former greats to audiences young and old. It is a unique series and one that truly captures the essence of the best of those who were not only lucky enough to don a county jersey, but to excel while doing so. The is just one part of the wider TG4 GAA stable and it's a relationship that has served us in Cumann Lúthchleas Gael well across the board at every level of the Association. We wish all involved well and look forward to many more excellent productions in the years ahead."