21 Years of Live TV Coverage of the All-Ireland Finals
August 31 2021 | Posted in:
Sport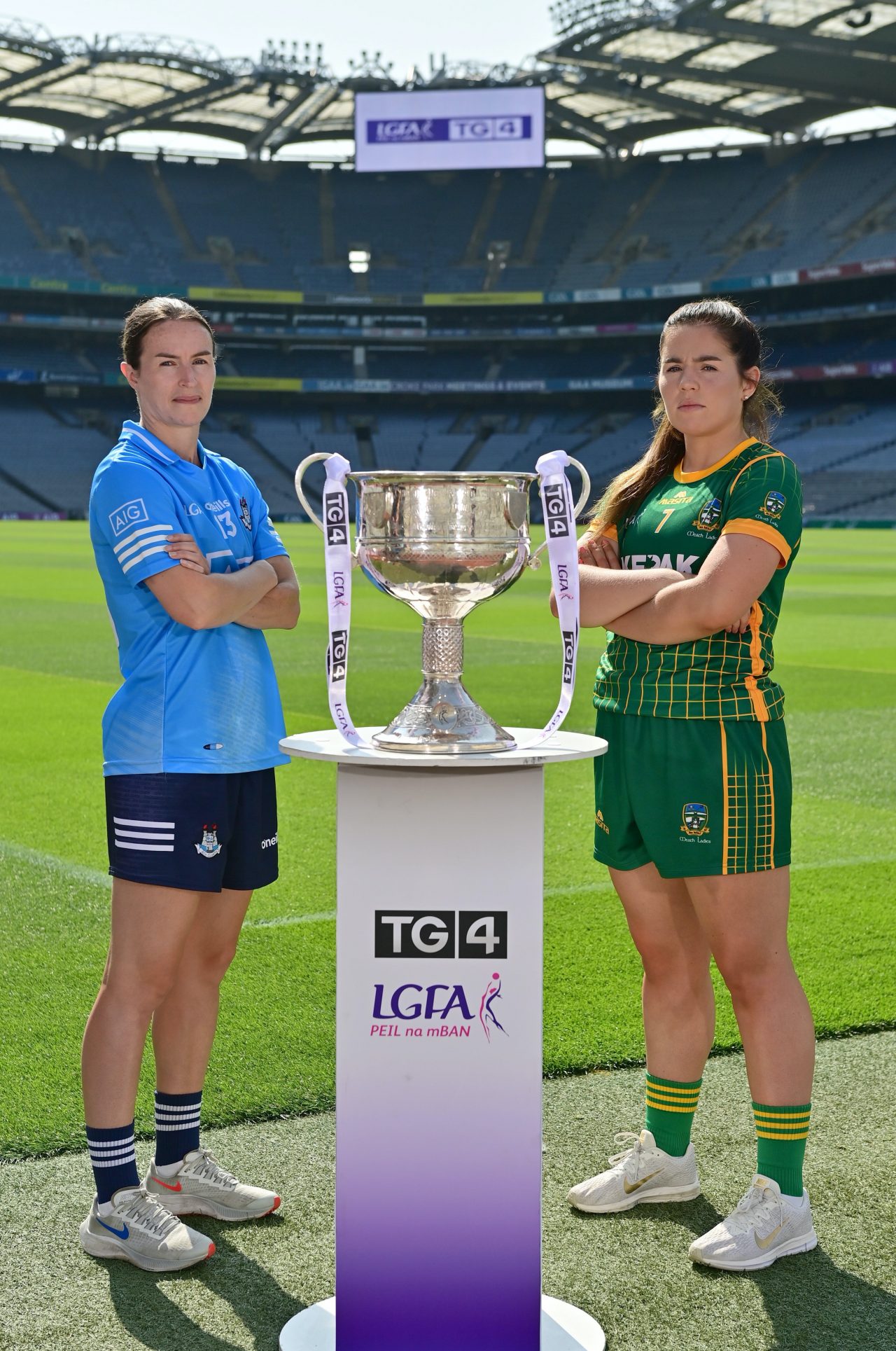 CAPTAINS from the six competing teams have gathered at Croke Park ahead of Sunday's (September 5) TG4 All-Ireland Ladies Football Finals. A Leinster clean sweep could be on the cards as there are guaranteed Senior and Intermediate winners from the province, while Wicklow have the chance to claim Junior honours. Wicklow, runners-up in 2020, will aim to go one better and erase the hurt of last December's defeat to Fermanagh when they take on Antrim in the first game of Sunday's triple-header, scheduled for 11.45am. At 1.45pm, Westmeath will also have a shot at redemption and the Mary Quinn Memorial Cup, after they lost out in the 2020 Intermediate decider to Meath. The Lake County have made it back to Croke Park and their opponents this time are a rejuvenated Wexford, who have shrugged aside the setback of relegation from Division 2 of the Lidl National League to plot a course to Jones' Road.
The Intermediate Final will be followed by another all-Leinster affair in the Senior decider, as Dublin take on Meath (4.15pm).
Dublin, who will be appearing in an eighth successive Senior Final, are aiming for the five-in-a-row and they're up against an exciting Meath outfit who were Intermediate winners last December, and Lidl NFL Division 2 champions as recently as June. Dublin also have the chance to complete the national 'double', after landing Lidl NFL Division 1 honours in 2021.
The respective team captains; Aislinn McFarland (Antrim), Sarah Jane Winders (Wicklow), Fiona Claffey (Westmeath), Aisling Murphy (Wexford), Sinead Aherne (Dublin) and Shauna Ennis (Meath) got a feel for Croke Park ahead of the big day and all three games will be available to view live on TG4 and worldwide on the TG4 Player: https://www.tg4.ie/sruthtg4/peilnamban.php
A Wicklow win in the Junior Final would see the county claim the West County Hotel Cup for the first time since 2011, as Antrim aim for their first win in this competition since 2012.
In the Intermediate grade, Finalists Westmeath were winners in 2011, while Wexford are hoping for a maiden win. And there's real history in the making for Meath, who are appearing in their very first Senior Final, and fresh from a stunning semi-final victory over Cork. Another win for Dublin, meanwhile, would see the Sky Blues claim the Brendan Martin Cup for a sixth time in all.
2021 marks the 21st season of TG4's sponsorship of the All-Ireland Ladies Football Championships, as well as the 21st year of live TV coverage of the All-Ireland finals. And it's not the only big milestone on the horizon, as Ard-Stiúrthóir TG4, Alan Esslemont, explained: "TG4 will celebrate our 25th birthday on the 31st of October and we owe our existence to the vision and determination of the Broadcasting Minister at the time, Michael D Higgins, who saw the importance of fostering a plurality of voices and diversity of views in our public service media. TG4's 'súil eile' approach led us to partner with other parts of Irish society which, like the Irish language, had been disregarded or pushed to the side. One of our proudest achievements is the mainstream growth which our 21-year partnership with the LGFA has engendered, both for Ladies Football and for TG4. I'd like to pay a special tribute to outgoing LGFA Uachtarán, Marie Hickey, wish a warm welcome to Micheál Naughton, who takes her place, and voice a heartfelt appreciation of the work of Chief Executive, Helen O' Rourke, and all of her brilliant team. Together, we have changed something in Ireland. Ní neart go cur le chéile."
Mícheál Naughton, President of the Ladies Gaelic Football Association, added: "We are in the privileged position to have such great sponsors and partners supporting the LGFA. It's incredible to think that 2021 marks the 21st year of our partnership with our Championship sponsors, TG4. We're rightly proud of the coverage that we have provided during this Championship campaign and, next Sunday, a huge audience will tune in at home and abroad to watch the three games. This is much more than just a partnership with TG4. It's a shared passion and love of Ladies Gaelic Football that shines through in everything that we do together. I wish to acknowledge the sterling work of Ard Stiúrthóir, Alan Esslemont, Head of Sport, Rónán Ó Coisdealbha, and all of the team at TG4 for their ongoing support and dedication to the LGFA, mile buíochas."
TG4 All-Ireland Junior Championship Final
Antrim v Wicklow, 11.45am
TG4 All-Ireland Intermediate Championship Final
Westmeath v Wexford, 1.45pm
2021 TG4 All-Ireland Senior Championship Final
Dublin v Meath, 4.15pm